NITROTECH (4 LBS)
October 18, 2014
LIPO-6 STIM-FREE (120 Liquid Capsules)
October 18, 2014
Description
Double-strength EPA+DHA for increased omega-3
benefits in fewer soft gels

Supports a healthy heart*
Our most popular concentrate, Ultimate Omega® offers therapeutic support for both body and mind. Without solicitation, doctors and researchers worldwide consistently choose and recommend this powerful formula. Concentrated Ultimate Omega delivers more omega-3s per serving than most other omega-3 products and has been shown by original research to support healthy glucose levels, healthy lipid levels in professional athletes, bronchial health, and the body's ability to respond to stress in a healthy way.*

Two soft gels daily, with food, or as directed by your health care professional or pharmacist. For ultimate support, take two soft gels with food twice daily.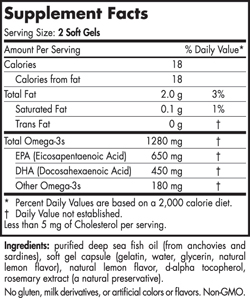 * These statements have not been evaluated by the Food and Drug Administration.
This product is not intended to diagnose, treat, cure, or prevent any disease.
Reviews (0)
Only logged in customers who have purchased this product may leave a review.