AMINOCUTS (30 SERVINGS)
January 10, 2016
ULTIMATE OMEGA WITH VITAMIN D3 (120 SOFTGELS)
April 21, 2016
Description

Nordic Naturals EPA Xtra is an ultra high concentration of EPA, an Omega-3 essential fatty acid recommended by doctors for cardiovascular health and proper immune support. EPA Xtra is molecularly distilled for purity and concentration, and has added rosemary extract for superior freshness. This formula provides excellent nutritional support for the body to manufacture vital series 3 prostaglandins and is "repeat" and "odor free."Contains 84% Omega-3 / 4:1 EPA to DHA

Two soft gels daily, with food, or as directed by your health care professional or pharmacist.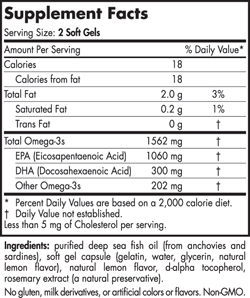 * These statements have not been evaluated by the Food and Drug Administration.
This product is not intended to diagnose, treat, cure, or prevent any disease.
Reviews (0)
Only logged in customers who have purchased this product may leave a review.